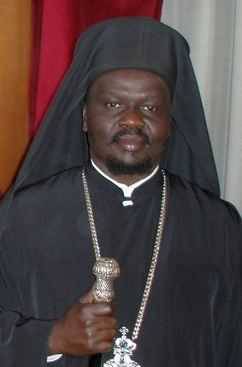 Bishop Neophytos Kongai
His Grace Bishop Neophytos was born in 1970 in Kesengei village, Nandi district, Kenya. He holds a degree from the "Archbishop Makarios III" Patriarchal Academy in Kenya. His Grace was ordained to the Holy Diaconate on September 13, 1998, and to the Holy Priesthood two weeks later, on September 27, 1998, by then-Metropolitan Seraphim of Kenya, now of Zimbabwe and Angola. He served as the Deputy principal at the patriarchal academy and served many parishes in Nairobi.
In the year 2005 he was awarded a Master of Theological Studies and a Master of Theology from Holy Cross Greek Orthodox School of Theology in Brookline, Massachusetts. On 27th of February 2005 he was consecrated Archimandrite by His Eminence Makarios of Kenya. In 2007 he was tonsured a monk at the Holy Monastery of the Transfiguration in Veroia. He is a candidate for a Doctorate in Pastoral Theology, with a scholarship from the Aristotelian University of Thessaloniki. On 26 November 2014, proposed by His Beatitude, he was elected by the Holy Synod as Auxiliary Bishop of the once brilliant Diocese of Nitria. In 2015, His Grace was unanimously elected as the first bishop of the Diocese of Nyeri and Mount Kenya.